Group Summary Report
Lumus has recently developed a Group Summary Report that combines 360 degree feedback data from a group of managers into one consolidated report. This report is designed to provide strategic insight into management development themes, culture and performance trends.
Whilst maintaining individual confidentiality, the new summary report's unique format paints a clear and accurate picture of how a management group or population are perceived by those around them. The report also provides a summary analysis of a group of individual performance feedback ratings in order to highlight current strengths, blind spots, areas for development and relationships between differing reporting populations.
Used as a strategic identifier, planning tool and change lever, this powerful summary report can be built from generic and bespoke Lumus™ 360 degree questionnaires and has been designed to provide senior HR practitioners, executive teams and development professionals with high level insight into:
Current Management Strengths: Those areas that should be maximised and levered for the benefit of the organisation.
Development Needs: The report provides an overview of the group's development needs and areas for continuous improvements which can be used as a Training Needs Analysis tool to steer, guide and shape training strategies and initiatives, and to underpin organisational development activities, ensuring focused development against specific real issues and needs.
Cultural Climate: Differences between reporting populations are highlighted to provide insight into relationship issues and cultural approaches. The report also provides a clear picture of current management behaviours / styles and a sense of what it feels like to be a managed within the organisation.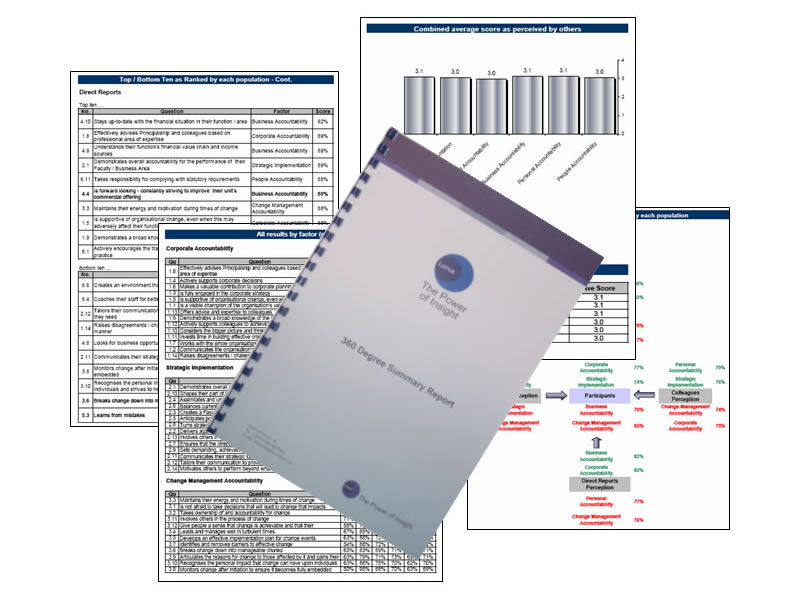 To find out more contact the Lumus™ team on +44 (0)1291 637380.